Association News
2019 Real Estate Impact Breakfast: We Need to Be Better to Survive
By Kim Gammond
On February 7, the Bend Chamber welcomed over 500 attendees for a discussion about disruptions to the buying and selling process and the way we live. James Dwiggens, CEO of NextHome and a 2019 RIS Media Real Estate Newsmaker, gave the crowd a reality check on the future of our industry.
Annually, residential real estate contributes between 13-15% of the US GDP and owning property remains the single biggest driver of wealth in this country. The desire and need for owning homes and property may not change, but the experience of the process will. From the MLS book to Zillow, we have already experienced massive disruptions in the home buying and selling process. And get ready for that to hit overdrive. In 2010, investors pumped $53 million dollars into real estate technology, in 2017 it was a five-billion-dollar industry. Here are some ways Dwiggins sees the real estate technology disruption already happening:
iBuyer technologies like OpenDoor were the crux of the disruptors Dwiggins discussed. iBuyer companies purchase the home directly from a seller and then resale the property. This video best hammers home the point. iBuying takes away all the most annoying parts of listing a home and can complete the process in a matter of days. Many large brokerages are currently developing their own iBuyer technology.
I am the first to admit when I hear Artificial Intelligence (AI), crazy robots are what comes to mind, so I get confused about why every industry wants to talk about Johnny 5 from Short Circuit. The reality is much more mirco. What does AI look like in real estate? It's an algorithm that knows what kitchens you have been looking at on Pinterest and what Zillow listing you keep going back to and then sends you future listings based on those interests.
The millennial is no longer the future market, they are the market. Millennials start to turn 40 in 2 years are well into their careers and family life. And they have very different expectations from financial transactions compared to their predecessors. Every transaction needs to be experiential and convenient. 78% of millennials would pay for experience rather than material goods. For real estate this means they want they want a neighborhood that gives them the experience they are looking for even if that means a smaller space. For REALTORS, it means that you need to be convenient to get ahold of.
Changing home types-building homes is expensive and we are not building enough of them. Whether modular apartments, container homes or other products, Dwiggens challenged builders to think differently and for policy makers to remove barriers like fees and regulations that prevent innovation.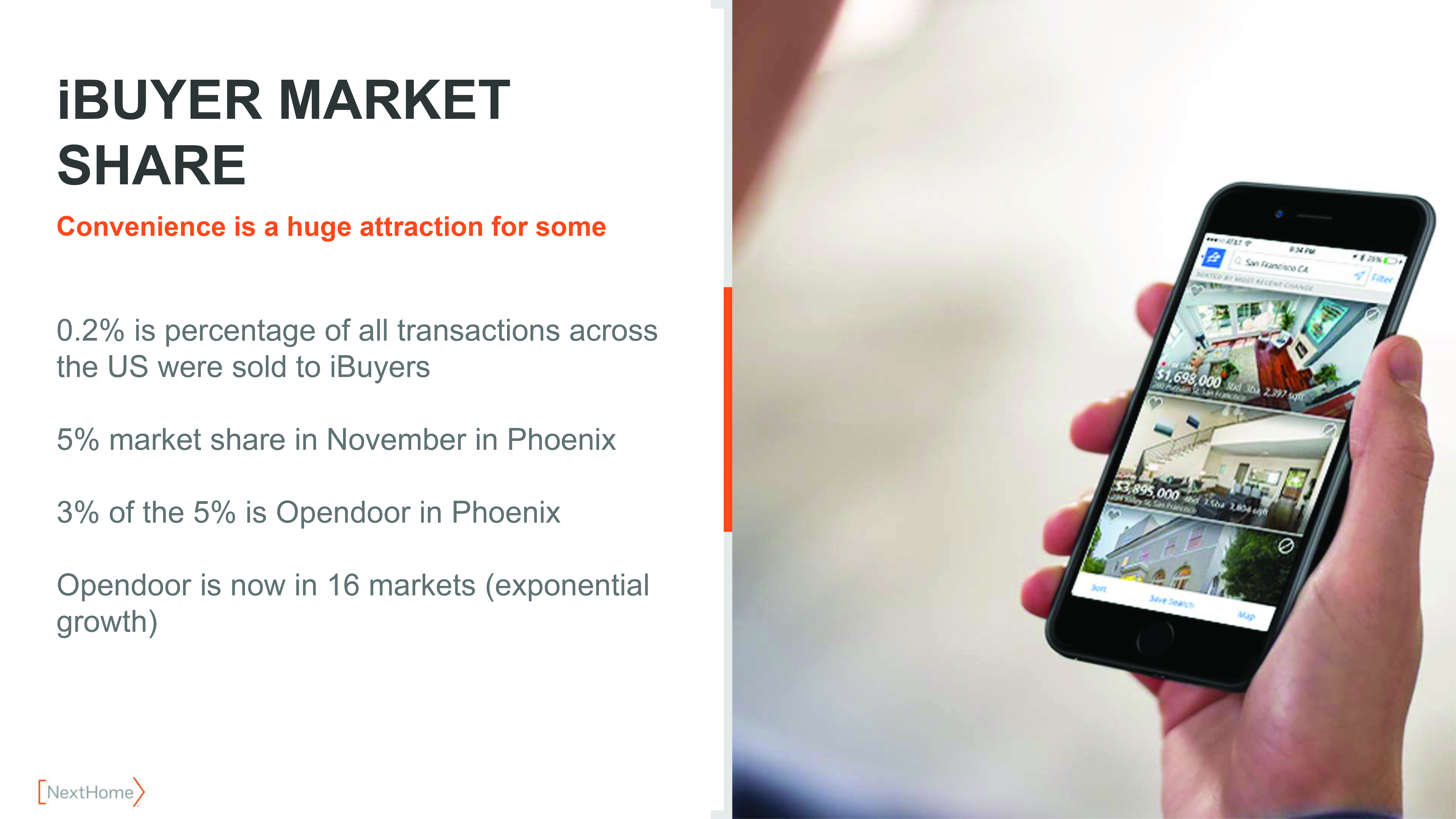 What does this disruption mean for the REALTOR? Your value proposition has to change, because technology will make the REALTOR irrelevant to the buying and selling homes if we allow it. According to Zillow, fifty percent of inquiries by consumers to agents go unanswered. Dwiggins also believes there are far too many REALTORS, they are too inexperienced to be relevant to a transaction and the lack of oversight from their brokers is draining value. He predicts NAR's membership of 1.4 million will be down to 600,000 in the next 30 years. Bottom line, huge investments are coming in to take your job and many in the industry are not adapting.
Dwiggins pointed out that the reason Blockbuster only has one store left is not that people stopped renting videos or because of video streaming. Blockbuster's business model had most of their revenue coming in from late fees. Netflix did not charge late fees. It took only 36 months for Blockbuster to go bankrupt. When streaming began, Netflix was able to shift its own business model, somewhat painfully and with a lot of risk, but they now dominate the entertainment industry. People are still renting movies, but the delivery has completely changed. People still want to buy and sell homes and they still want help doing so, we just need to change how that service is delivered.
Consumers want convenience and a great experience and REALTORS have to step up and deliver it. Real estate will remain the most significant transaction in most people's lives and the most complex. From my personal perspective having observed the industry over the past five short years, many of these changes may not be fully realized in your career or mine. However, looking back 10 or 20 years from now-the real estate transaction landscape will be very different.
I encourage everyone to watch the presentations or read the slide decks for great discussions on the morning's other topics:
Parking and Transportation Disruptions
Opportunity Zones
Inclusionary Housing in Portland
Rent Control
Changes to Single Family Zoning
Bend's efforts to help with affordable housing
Deschutes County at 500,000 residents
Slide decks are available here and I saw cameras so hopefully the full presentation will be up soon. For coverage from The Bulletin, click here.
2018 Building a Better Central Oregon Awards
Best Overall Community Impact in an Industrial Area
10 Barrel Headquarters
Outstanding Interior/Exterior Renovations of a Residential Home
Residence- 64970 Glacier View Drive
Best Rebuild of an Essential Central Oregon Facility
Bethlehem Inn Family Residence and Service Hub

Significant Contribution to Neighborhood Improvement and the Central Oregon Economy
Boneyard Brew Pub
Monumental Remodel for an All-Encompassing Retail Experience
​​​​​​​Camp Abbot Trading Company
Best Project Fulfilling Community Need
Cook Crossing
Best New Economic Opportunity
Daimler Trucks North America Test Track
Outstanding Vision and Transformation
Harcourts-The Garner Group Office Remodel
Most Impact on Neighborhood Revitalization
Market of Choice
Best Addition of Quirky Lodging Options​​​​​​​
McMenamins Old St. Francis Ed and Art House Additions
Most Significant Impact on Community Employment​​​​​​​
Plateau Travel Plaza
Leader in Vital Bend Corridor Beautification
Silver Moon Brewing Pub Remodel
 New Legal Lot of Record Video Breaks Down Recent Process Changes
COAR has created a new, animated explainer video that breaks down a November ordinance passed by the Deschutes County Board of Commissioners. The ordinance made some key changes to the legal lot of record verification process. At just over 3 minutes, the video provides a quick and easy way to get up-to-speed on the recent changes. Click here to watch.
Government Affairs Information
Bend Sewer to Septic FAQ
On septic? Wondering how to hook up to the Bend sewer system?
Click here
for a helpful guide from COAR.